25 / Sep / 2018 Phát Art
Our paint is a traditional material used to paint lacquer paintings only in Vietnam. Today, for a variety of reasons, paint is gradually dying out, few artists use it, instead they use Japanese paint to replace the paint by Japanese paint for a variety of colors. However, at the recent painting exhibition, paint once again shone through many impressive works.
The reason for painting is not as popular as before.
Paint from the paint is grown in Phu Tho, in the process of taking paint people are very easy to paint. In addition, the paint also depends on the weather, dry at the dry time, the weather is high moisture is quickly dry, in addition to the paint has a restriction is the color of the paint is not as diverse as the Japanese paint. We usually have the main colors such as red cockroach, black …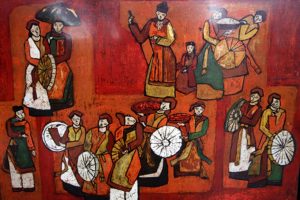 paintings, paintings, flowers
Japanese paint is easier to use because it is very fast drying and can be used in all environments, weather and color are diverse. It is because of that that paint is gradually lost, to find the lacquer paint paint is very little effect.
The value of art paint I bring.
In terms of art, the paint is still preferred over Japanese paint by the elaborate in the process and when completed. Our paintings have a deeper and sharper look than Japanese paint and other paints.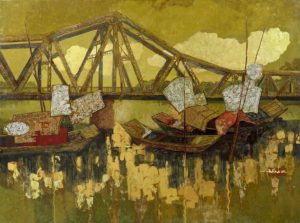 Japanese paint, although the color is more diverse than the paint but the paint of Japanese paint is not smooth, sharp but becomes hard, dry, no soul paint. That is why people prefer paintings.
The artistic meaning of lacquer painting.
Lacquer paintings, lacquer bowls, or lacquer items bring the traditional beauty of the Vietnamese people, each lacquer has a unique feature. By the process of creating a lacquer painting different from other paintings.
The process of painting lacquer painting on the base (wood panels are bundled, painted with paint), then the artist will attach the shell eggs, mussels and the color is mixed with paint overlap with the paint. The process of sprinkling yellow gold, silver and then incubated in a moist environment for drying quickly after the new grinding to create a complete lacquer work. Each of these lacquer works has its own color, soul, and color that make each work a distinct artistic sense.