11 / Sep / 2018 Phát Art
The development of traditional handicraft villages is becoming a new direction in the development of Vietnam's tourism, in which the lacquer industry is one of the most famous handicraft villages in Vietnam and abroad. .
What is a grinder?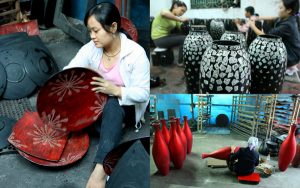 Lacquer is one of the art materials in Vietnam, this is the exploration and technical development of the traditional craft of painting in Vietnam into lacquer techniques.
The reason foreign tourists prefer lacquerware.
– Tourists, especially Europeans, like simple products, neat, straightforward, luxurious and special attention to the safety of products, so lacquer products are the thing. first they think of.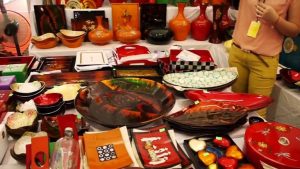 – Lacquerware uses traditional paint materials of the painting industry such as lacquered paint, lacquer painting as a binder, along with lipstick, gold, pearl shell, egg shell, nacre. black background. All the materials that make a lacquer product are derived from nature, not toxic but very special.
– Lacquer is a traditional handicraft of the Vietnamese people from ancient times so each lacquer works bring cultural quintessence of the Vietnamese. It is also possible that the traditional lacquer industry is regarded as a "living museum", a place to store treasure of tangible and intangible cultural heritage both rich and diverse, both lively and contributing. The part makes up the value of the national culture. This is the factor that attracts the attention of visitors.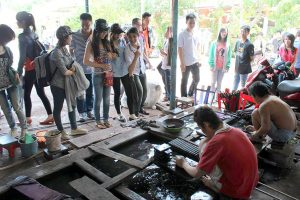 – Visitors to the lacquer village are not merely to visit the cultural relics, scenic places but above all to enjoy the dishes of the multitude of mind hands with diligent spirit. , persistence, creativity and sublimity successively through generations, from which, step by step explore and explore the culture of the Vietnamese.
– Many foreign tourists said that whenever they visit Vietnam, they come to visit lacquer villages to satisfy the taste of exploring the cultures outside. Not only do they come here to buy some souvenirs but also to take part in the production process of lacquerware, from beautiful lacquer plates to lacquer bowls. lacquer … make them feel excited and passionate.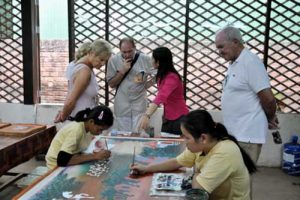 – To the village of lacquer, visitors will encounter the booths selling items of the village. Each booth sells different lacquer products, depending on the style of each production facility. The products are careful, eggs, wood paintings, statues, vases … all the beautiful, gentle, charming East traditional style, although the lacquer has many generations to go. by. When watching the lacquer paintings, visitors are not surprised by its exceptional, subtle and rich art. Thanks to the gloss and durability of the paint has made the soul of lacquer and turn lacquer into a timeless art.