07 / Sep / 2018 Phát Art
Lacquer painting
Coromandel lacquer from China, Urushi from Japan, or Vietnam's Son, is a traditional handicraft with the main material is the resin of the tree. Starting from the Han Dynasty, which was widely used during the Song Dynasty and flourished in the Ming Dynasty, lacquer art is claimed to be one of the oldest and most respected forms of expression in Asian culture. east.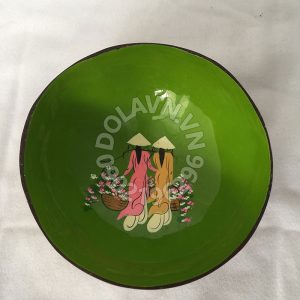 Vietnamese lacquer art is a labor-intensive process that takes time and effort. Each piece of lacquer, as large as the statue of worship or small with a ring, must undergo more than 15 manual arts lasting two months. This process starts with choosing the right wood to create a design for each type of lacquerware, called carpentry. After that, a layer of lacquer resin will be coated, penetrate into each fiber to make the wood hardness and anti-termite. Phu Tho province, located in the north of Vietnam, is famous for its lacquer hometown. When freshly extracted from the plant, the lacquer is milky white milky, the air will turn yellow and gradually turn black when frozen. Carpets will continue to be flattened with a smooth cloth to ensure they are not cracked or shrunk in cold, dry conditions. Five layers of lacquer, in turn, are coated on the fabric to create the necessary thickness. However, lacquer artisans have to wait for each paint to dry before proceeding to grind the water. This work will be repeated several times (sometimes up to 10 layers of lacquer or more) to lacquer to smooth, glossy. Depending on the design of each lacquer product, artisans will decide the most appropriate decorative steps. Today's lacquer has some changes to fit modern life, such as the replacement of some traditional materials (natural wood, lacquer) with new materials (MDF, compesite, pottery, paint industry), but the process of manual craftsmanship and meticulousness of the ancient "1927" is preserved almost intact.
Each of Dolavn's products is certified with major awards from the city, industry, agriculture, industry and trade, etc. The products always have creative ideas. Highly focused and skillful craftsmanship of lacquer artisans. By developing rich textures, colors and unique techniques, Dolavn has created its own identity.