26 / Dec / 2019 Phát Art
Born in 1983, a childhood associated with the beautiful land of Son Tay, Nguyen Tan Phat carried a passion for painting since childhood. Graduated from the University of Industrial Fine Arts, after a long time of applied arts and lacquer painting, Tan Phat has gone into painting in the last two years, especially portrait painting.
Painting by Nguyen Tan Phat is not easy. Each one sends a message about impermanence, about love that can ease the pain.
Nguyen Tan Phat did not draw what he saw, but what he felt. The portraits in Nguyen Tan Phat's painting are therefore inner depth, obsessive to the viewer, full of emotion and contain a lot of philosophy.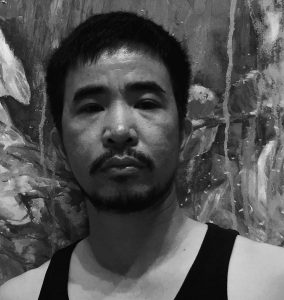 Painter Nguyen Tan Phat
Reporter: If you talk about painting, can you sketch a little about yourself and which topics are you most interested in?
Painter Nguyen Tan Phat: I recently pursued a line of portraiture, drawing ideas, narrative, and inner interest in characters.
Reporter: The character's inner mind must originate from some story related to your life?
Painter Nguyen Tan Phat: The portraits I paint are familiar. During the time I interacted with them, I understood their life, life, confided and I sketched back in the language of painting.
The portraits I paint are about the fate of women. According to the experience of my life, I see that the lives of women are distorted and miserable with many confessions that are hard to express and share.
In my life, the people closest to me like my mother, my sister, and my wife are also human lives, I find them more disadvantaged than men. They just have to worry about life and career but still suffer many disadvantages in life. They also have to take care of children, husband and children, very hard.
In modern life, the role of women is also different. They are dynamic people, but still suffer many disadvantages. No matter what time women are disadvantaged and in my paintings depict those people.
Reporter: When watching your paintings, viewers will be thinking and obsessed?
Painter Nguyen Tan Phat: In the profession, the artist always refreshes himself, makes a difference. Me too. I painted portraits but I did not draw what I saw intact but I painted what I felt from my characters. I express in my own language. All the portraits I painted were a reflection of the sadness that I concealed with my hair, the array of colors. My characters cover their eyes. Because the eyes are the windows of the soul, but the eyes of the character I drew are hidden.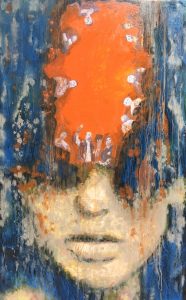 Painting by artist Nguyen Tan Phat expresses his lips very impressively. According to the artist, it is very difficult to feel emotions through lips, it is the peak of emotional feeling more than through eyes. The work "Tâm Tâm" by artist Nguyễn Tấn Phát.
Reporter: The eyes are the window of the soul to describe that often is not easy. If you cover your eyes, how do you want to emphasize each portrait?
Painter Nguyen Tan Phat: People say eyes are the window to the soul but I want to hide them. I portrayed the character with the emotion of my lips. Just by looking at the lips of a character, one can guess the personality and feelings of that character like.
Almost all my characters have stronger lips than usual. Looking with the naked eye, the proportion of lips is shown bigger than usual so when looking at it is very impressive.
In fact, it is very difficult to feel emotions through lips, it is the peak of emotional feeling more than through the eyes. Sometimes people in the profession are still wandering when looking for that emotion.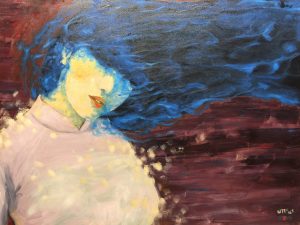 Many people see themselves in paintings of Nguyen Tan Phat
Reporter: Not only painting but even music, literature, the topic of women is still the subject that makes art people want to exploit?
Painter Nguyen Tan Phat: This is understandable, art is always looking for beauty. The beauty of women despite suffering and disadvantages in society, they are always beautiful. They are always charismatic, especially attractive to male artists.
Reporter: Besides showing the character through lips, what else is emphasized in each portrait?
Painter Nguyen Tan Phat: The lips are one of the facial details. And to feel the emotions about the picture, it depends on the layout of the picture, how I cut the corner of the face, sometimes the color. Gam, vibrant colors create excitement, sad colors also bring thought.
Reporter: Drawing characters around you, so when you finish the work, will the character be surprised and realize that it is you?
Painter Nguyen Tan Phat: Usually when finished painting, I show them. At first they were often silent. then they had seven expressions that were quite unexpected and had never seen such a strange picture.
The line of paintings I paint is quite picky to viewers, understanders. Still is