07 / Sep / 2018 Phát Art
Born and raised in the land of the legendary Son Tay (Hanoi), young artist Nguyen Tan Phat has passion for painting. Draw at any place, on the wall with pieces of broken tiles, with sticks in the sand. Talented as drawing sublimated wings when finished high school Passed into the University of Industrial Fine Arts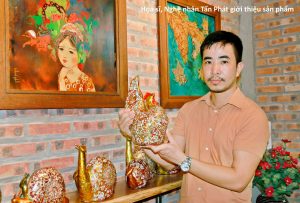 Then, Phat came to the lacquer industry. A proper job with his gifted talent. But life is not just drawing, there must be food to eat. So play back soon to find your way. How to "burn" up the fire business, love painting. But at the same time it must be worthwhile, first to support the economic burden of mother, father; After all, what's your spending?
Think is done. Repeat failure. Passionate to explore the "quality" of the lacquer industry through painters, artisans everywhere, through books, especially the cultural heritage – the mascot, lacquer paintings in the ancient temple of Vietnam.
Five months rolling with the profession, five months matured quickly. Lacquer handicraft products are distinctive – the brand of Phat gradually occupy the market. Open the workshop, set up the company. Ordering more …
Not only focus on making items of high quality, cheap and cheap "popular", short for raising, Phat still has the unique and truly hidden works of art. His paintings.
We meet Phat in the space displaying his product. Many works from statues, paintings, to very ordinary animals such as goats, chickens, snails … Each child, each looks; each in a unique way. Take chicken statue in hand, Artist – Artist Nguyen Tan Phat share, to do this statue, must go through dozens of steps – creating product embossed, coated with 7-12 layers, polished, mosaic effect color … It can be said, the artist has blew soul, have put their heart here to get such products, Play share.
Phat's paintings, many drawings from Phat university still keep. Someone has paid him tens of millions, such as the picture fish, girl, but he does not sell. Share: I keep making markers in the career of the composer, the works are kept are works won the competition, exhibition. With Phat, a great motive is to develop businesses to bring jobs to local labor. (The labor that Phat has taught the craft not less.) About myself, to satisfy the desire to be creative. Do not stop writing, designed to contribute to fine arts as well as handicrafts of the country.
A great honor for artist Nguyen Tan Phat when he was awarded the title of "Hanoi Artisan" in 2017 by the Hanoi People's Committee. Nguyen Tan Phat was the youngest artist of the capital to be honored in the year.
At age 36 with over a dozen years of age, it is very rare to be a painter of the Vietnam Fine Arts Association since 2011. Phat is still expressing love with creativity contributing to Vietnamese handicrafts. Tan Phat young artists are constantly receiving awards for designing handicraft products, gifts of Hanoi, such as: "Typical industrial products of rural level TP. Hanoi "in 2011, first prize in the design contest for handicraft products in Hanoi in 2014; Participating in APEC 2017 gift design contest in Danang …
At present, Phat says that there are 7-8 unique works prepared for their upcoming competitions at the Vietnam Fine Arts Association; Design contests of provinces across the country …
Painter – young artist Nguyen Tan Phat has the creative force of delicate, quick, rich passion for learning the traditional arts. Recalling his time studying at Hanoi University of Fine Arts, specializing in lacquer, Phat worked at jewelery stores and handicrafts in Hanoi's Old Quarter to gain a better understanding of the profession. . Graduating from college, he opened a private enterprise in Son Tay town, specializing in making paintings, household articles, mosaic jewelry, lacquerware. With enthusiastic enthusiasm, patience and ability to grasp the trend of market quickly, artist Nguyen Tan Phat has created unique products of high economic value, very different from Lacquer products on the market.
Products of artists – artisans often use traditional mosaic materials such as eggshell and shell to keep traditional beauty and environment friendly, consumers, especially foreign consumers prefer. fond of.
Taking care of the development of his craft, his business, artist – young artist Nguyen Tan Phat is one of the typical members of the Handicraft Association and Hanoi Trade Village. He was awarded the Certificate of Merit by the Department of Industry and Trade, People's Committee of Ho Chi Minh City. Hanoi awarded the Certificate of Merit for its contribution to the development of the Association, the development of the Capital.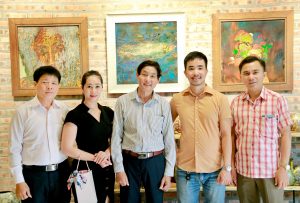 As rightly as Ha Thi Vinh – Chairman of the Association of handicraft and trade village of Hanoi has evaluated: Artisan Nguyen Tan Phat always pay attention to the branding business, when each product is sold on the market are glued. tem website of the business. The Association always appreciates the contributions of artist – artist Nguyen Tan Phat; At the same time, the Association is always willing to accompany and support each member to have conditions to receive market information, help businesses expand production and consumption markets nationwide and internationally …
Painter – artist Nguyen Tan Phat, can say he and the team of Hanoi businessmen have been contributing to Hanoi increasingly crystallized more than the value and identity of Vietnam through each fine art product. lacquer.
Tran Mieu