25 / Sep / 2018 Phát Art
Handicrafts have long been originated in the countryside of Vietnam so far crafts are growing. Among the most popular handicrafts are lacquerware, lacquerware, lacquerware, lacquerware, lacquerware, lacquerware, lacquer mask, lacquer … Here we will learn about the main stages of lacquer technology.
Stage in lacquer is divided into 3 main stages.
1. Bunch of sticks.
This is the first step, the artisan will use alluvial soil mixed with paint I retired the same paper and hom, chit the crack of the wood again. Apply a layer of paper to the mortar and then tie the fish to fix and fix the horizontal brace to prevent tearing along the fabric.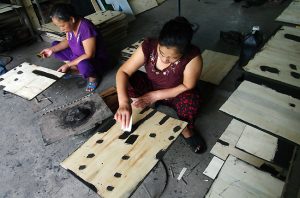 To dry wood and then covered with both the front and back, as the material will be protected carefully, waterproof without termites. The longer it is treated, the longer it will last for the object to be painted, so that each lacquer has a very long life from 400-500 years.
2. Decoration.
Decoration is the stage requires high meticulousness of artisans. Once you have finished stitching on the person will attach or paste the coloring materials for the work as eggshell, gold, silver, mussels, nacre … then covered with paint and then smoothed using color.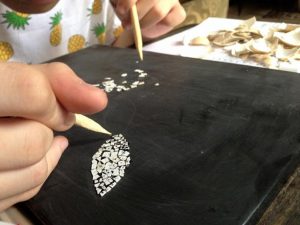 Lacquer products
This step must be careful, to paint the statue or lacquered, the sentence must be done in a closed room and enclose the screen around to avoid the wind.
3. Grinding and polishing.
The shadow will bring mixed colors to create depth for the painting, after each painting must be sharp.
When grinding, people will use dry banana leaf as a scrap paper, or crushed oak charcoal, tangled hair or chicken liver flakes for polishing.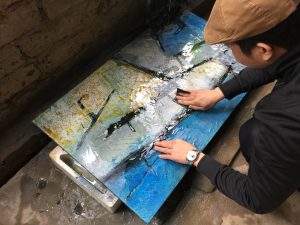 Lacquer painting – the village theme
Lacquer paintings bring their own unique features, gems, harmonious colors, and bring a rustic tradition. Owning a lacquerware in your home will make your home more luxurious, making the space indoors fresh.
Besides, you can also use lacquerware as gifts such as lacquer bowls, lacquer paintings, lacquer plates, lacquer box or lacquer jewelry, lacquer gifts carry more meaning than other gifts.