28 / Sep / 2018 Phát Art
Our lacquer products are affirmed not only by prestige, quality is always glossy, smooth, beautiful, high durability, but also the crystallization of the skillful hands, creativity of people. flower worker
The oldest people in Forest Road, Son Tay, Hanoi also do not know exactly how the village began to form in the year, only know that the diaphragm tiara in the village made by villagers dating from the village 18th century.
Artist Nguyen Tan Phat, who devoted himself to the profession, brought new materials into the lacquer, such as eggshell, shell, yellow, lip color … and he was also the first to bring lacquer paintings around the world. At the fairs in Paris (France) in the early 20th century.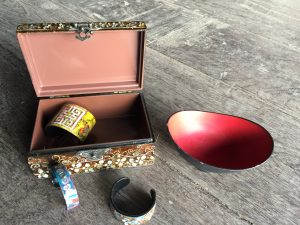 Lacquer products
Lacquer products are colorful
Lacquer is a characteristic material of Vietnamese art, not only for painting, but also for other handicrafts such as lacquered boards, parallel sentences, household items, Buddha statues.
Material for lacquer is very special, it is paint, a tree only grows in the middle of mountainous Phu Tho.
To create a product, the craftsman must persevere with the method of prolonged, must be sophisticated, skilled … even months to complete a finished product. Products bring the beauty of the workmanship, the iridescence of colors to the splendor, arrogance and the subtle, charming of the beautifully decorated beautiful. It is these things that make up the Dolavn lacquer brand, not only in the country, but also in the country of international friends, bringing to life the changes.
Lacquer products
 Dolavin lacquer products bring the beauty of the workers, the iridescence of color
Currently, lacquer paint us, just take the tangled hair rub on the paintings, or use the hand moist (with little sweat) to paint the picture, the paint is very glossy. Thanks to that unique feature, lacquer paintings are still preferred because of the elaborate work of painting and painting, the paintings are deeper, more soulful.
According to the painters Dolavn, each product lacquer, even small as a cup, bowl, vase or "caliber" as the picture, the album requires elaborate, meticulous in each step, each stage. Through the skillful hands of the talented artist, the beauty of our country is reproduced vividly, attractive but still retain the charming, charming countryside of Vietnam.
The lacquer products with the clean form, the pattern painted bold ethnic nuances such as banyan tree water boat, leaf boat, Halong Bay, One Pillar Pagoda, … is particularly favored.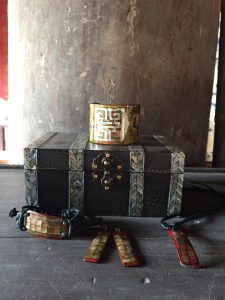 Beautiful lacquerware
The motifs bring beauty to the village
Dolavin lacquer now has a new vitality, standing in the famous handicraft villages in Vietnam with goods mainly exported to countries in the world such as England, France, Russia, USA, Australia, Italy, Japan, Korea … The products of Dolavn Lacquer have appeared and received the admiration of visitors at many handicraft and craft fairs in the country and abroad.