07 / Sep / 2018 Phát Art
Lacquer paint our country bold national identity, derived from the traditional painting.
Through the experience of the artists of Indochina Fine Arts College, Vietnamese lacquer painting has a unique, delicate, surface and color shift.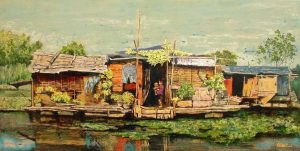 Lacquer painting – the village theme
The process and technique to create lacquer paint strictly comply with the stitching process until the stage shows, the lacquer paint bold Vietnamese identity that no country has.
Painting lacquer paintings, then be grinding the surface to reveal the color of the inside as expected to contain both unexpected and random elements that make up the originality of a work. separate and unique painting.
Therefore, it can be said that lacquer painting is a Vietnamese national.
In Vietnam long peach blossom, apricot is representative for spring. Blossoming in winter and spring, suffering cold, cold to rise. Apricot flowers, peach blossom bring joy and good luck to everyone.


Painting lacquer – Ha Noi street
Through the hands of artists on the lacquer bright lacquer, picture apricot branch, digging up will bring life to your home.