20 / Sep / 2018 Phát Art
In addition to love and concern for each other, people in love often choose the meaningful jewelry to dedicate to the enemy as a testimony to their love. Do you know your love meaning as a jewelry yet?
Lacquer jewelry is a product of lacquer with traditional values ​​of Vietnamese ethnicity, it shows many layers of meaning when you wear and mix with the clothes you wear.
What is lacquerware?
Lacquer jewelry is a kind of jewelry made of wood, porcelain, silver, gold, mosaic, shell, shell eggs … Through the skill under the hands of artisans have created a durable jewelry. Both beautiful and high artistic value.
Features and meanings of lacquer jewelry.
Lacquer jewelry is a traditional product of Vietnamese art that is passed down through generations. Drawings in lacquer jewelry bring a deep beauty that ancient.
To make a lacquerware, artisans must be very patient, meticulous and creative. A lacquer product has to go through three stages: bundling, decorating, grinding and polishing. At each stage are meticulous and patient. Therefore the artistic value that it brings is invaluable.
Lacquer jewelry has a very high durability, average 400-500 years, so you do not have to worry jewelry will rust or break, this is also a positive point that other jewelry can not have.
Wear jewelry lacquer makes you become more luxurious, noble thanks to its classic and artistic.
Some unique lacquered jewelry is suitable as a gift.
1. lacquer rings.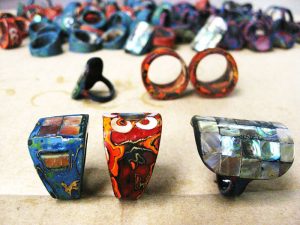 2. Lacquerware Bracelets.