07 / Sep / 2018 Phát Art
On the occasion of the 45th anniversary of the establishment of diplomatic relations between Vietnam and Japan and the 10th anniversary of the establishment of the Hanoi-Fukuoka cooperation, the implementation of the 2018 Hanoi External Relations Action Plan Representatives of the City of Hanoi, Vice Chairman of the People's Council Phung Thi Hong Ha visited and worked in Fukuoka from July 30 to 31, 1818.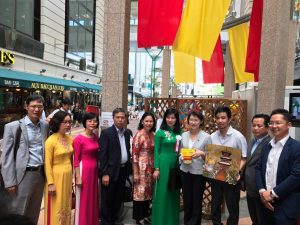 On the first day of the festival, there were hundreds of visitors to enjoy, visit the exhibition, find out information about Hanoi. The traditional folk art performances of Hanoi have contributed to the geographical proximity, which is a chance for Fukuoka people to experience the cultural colors of Hanoi – the land of the land. exhausted and left a deep impression on the people of Fukuoka Prefecture.